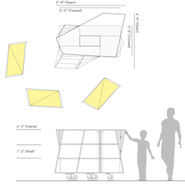 *Update: Uni Boston will launch Sat 7/19 at 11am with a very special guest. Details here. Join us!
________
We're pleased to announce that the Uni Project will launch a portable, open-air reading room for Boston's 15-acre linear Greenway park this summer where people can sit, gather, and read great books. Last night, Boston Mayor Marty Walsh announced that the Uni was a winner in the first-ever Boston Public Space Invitational competition, sponsored by the city's Office of New Urban Mechanics.
Thank you to the Uni design team at Höweler + Yoon Architecture. On the ground, we'll be working with our partners the Rose Fitzgerald Kennedy Greenway Conservancy, the Boston Public Library, and students from Simmons Graduate School of Library and Information Sciences, who will staff the reading room as volunteers. Houghton Mifflin Harcourt will help seed the reading room's collection, and the reading room will be sponsored by the staffing agency Robert Half.
Here's a here.
Those of you who know our work over time as Boston Street Lab, will recognize this is something of a homecoming. Hello again Boston.